Sushi Making Class: Learn How To Make Your Own Sushi
A couple weeks ago my friends and I bought a Groupon for a sushi making class. We all enjoy sushi and have made it at home before, but the class sounded like a fun adventure and something out of the ordinary to do. As much as I try to eat clean and healthy, I do love some good sushi every now and again.
We took the class on Saturday from 11am-1pm. I was a little apprehensive about eating sushi that early in the morning but I figured it would be okay. The class was at a place called Ninja Hops in Torrance. It is a standard little sushi place but seemed a little bit shady because it was next door to a "Green" doctor (aka dispensary). But the restaurant itself was nice and had two flat screen tvs you could watch while making your rolls. I brought my own gluten-free Tamari Soy Sauce so I was completely prepared for our adventure!
Each sushi making class student was given the following materials:
Knife
Bowl of Water
Plastic Mat
Roll #1: California Roll
Our first roll we made was a California Roll. We were given a piece of Nori (sushi grade seaweed paper) and a ball of sticky rice. The sushi teacher told us that the rice is very important and she recommends purchasing a Rice Cooker (a good one that's at least $80) and a bag of CalRose Rice which you can get at any Asian Market or online on Amazon. You put rice vinegar in the rice and you can also add sugar to taste.
We took the ball of rice and spread it out on the piece of Nori. we had to make sure to get all the corners. I had to dip my fingers in the water to keep the rice moist to allow it to spread. Then they had us flip the piece of nori over so the rice could be on the outside.
Then they brought over krab (imitation krab with a "k"), cucumber, and avocado. Then we rolled it on up. My first roll was not closed well and ended up falling apart when I cut it. Eww!
Roll #2: Spicy Tuna Roll
The next roll they had us make was Spicy Tuna. We put the rice on the nori paper, sprinkled it with sesame seeds, and flipped it over like last time. Then they brought over a spicy tuna mixture and put it on our roll along with cucumbers. Then we rolled it up. This one turned out a little better than the first roll, but still no masterpiece.
Roll #3: Hand Roll
For the third roll they brought out Soy Paper for a hand roll. They showed us how to fold the roll and then brought over the rice. This time we weren't supposed to spread the rice over the soy paper, but leave it as a clump. Then they added imitation krab, cucumbers, and avocado and we rolled it on up. I think my hand roll turned out pretty good:
Roll #4: Shrimp Tempura
Alright, finally getting the hang of this sushi rolling stuff. The next roll was a shrimp tempura roll. I don't eat tempura because it's not gluten-free, so I just made this as a plain California "fat" roll. You will see why in the pic below. We rolled the sushi a different way which is how it gets those big pieces. We only got 4 pieces out of this roll, but I think this was my best looking roll of the day. I even added Sriacha (a hot chili sauce aka "The Rooster Sauce") to the mixture to make it nice and Spicy.
Roll #5: Spicy Tuna Topped With Mango and Eel Sauce
For the grand finale we did a more hardcore sushi roll. We made a spicy tuna roll the same way we did in #2. Then we rolled it up and topped it with fresh mango. The mango looked so good, I wanted to eat it right there! Then we put saran wrap over the roll and rolled it using the sushi rolling mats. Then we cut the roll with the saran wrap still on it to hold it in place. Then the teacher came by and topped everyone's rolls with eel sauce. I don't eat eel sauce so I passed on that part. Wow, was this roll good!
Overall the sushi making class was messy, filling, and a lot of fun. We made so many rolls and had way too much food so we had a take home box. Look at all this sushi. Wowzers!
If you live in the Los Angeles Area and want to check this class out, the Ninja Hops Sushi Making Class Groupon is still available at the time I am writing this. Click on the link below for more information. Enjoy!
Ninja Hops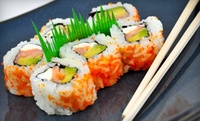 Sushi-Making Class with Food and Drinks for One or Two at Ninja Hops (Up to 58% Off)
What about you? Have you ever made your own sushi? Post in the comments and let me know!